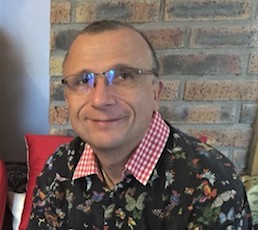 BIOGRAPHY
Born in 1966, in Besançon, I draw and paint since my early childhood. My mother has transmitted her passion to me, being herself an artist and a painter. Her decorative artwork was exhibited at the Beaux-arts museum of Besançon. She taught me what I believe is the most important thing: the observation of painters, particularly whom she much admired like Millet, Corot and Courbet, painter from my region, "Franche Comté".
Nature, poetry and meditative texts, in particular far-eastern philosophies are major source firing my imagination. They also give the spiritual sense for my drive of painting the energy burst and dealing with soul states and human consciousness.
After a serious accident and subsequent health issues, painting has become an 'inner necessity' in order to reclaim my life. Since then, I learn, I acquire something new every time, as a mirror of myself. It's a spiritual approach, more than a fun approach, although I love venturing into new frontiers. My paintings, conceptualized slowly in a play between abstraction and reality, try to express the passage between inner and outer worlds, my consciousness vibrations, reminiscences and resilience.
Three fundamentals define my esthetic credo and steer my research: First, materiality and its sensory dimension, second, meditative symbolism and linked-subjects correlation (such as water and mountains), finally, chromatic unity and light-induced balance through the selection of a simplified correlated color range.
My preference for mixed techniques (in particular the use of sand mortar mixed with natural pigments) contributes to the texturing which is very present in my work. What boosts my serenity is mineral and I try to magnify and spiritualize matter.
EXHIBITIONS
Represented on
Concept Store Gallery PARIS (75006) and LA BAULE (44500)
www.concept-store-gallery.com
GALLERY104.COM
373 Broadway,#512.New York, NY.10013
www.gallery104.com
2018:
* preparation of a solo exhibition from 20 December at the Concept Store Gallery in Paris (75006)
* group exhibition from 13-14 October at the Grand Kursaal in Besançon (25). This event has existed for over two decades. Public's first prize.
* group exhibition from 19-21 October at the 'Louvre Art Shopping Carrousel' fair in Paris (75). 'Artists Workshop Club' selection.
* solo exhibition using 'Art Room', 'Matter and sensations'
Each year since 2003, I organize a solo exhibition using 'Art room' concept. 'Nature Sensations' in 2016, 'Reminiscence and Resilience' in 2017