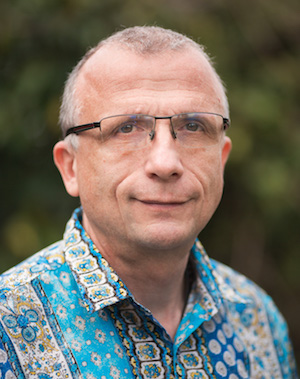 BIOGRAPHY
The perception of impermanence
From matter to light... up to the glare
Painter of impermanence and forgotten benevolence
I have been painting from a young age, a passion transmitted by my mother, painter and drawer herself and whose work has been exhibited at the Besançon's Fine Arts Museum.
She taught me the observation, the nature of which I draw an infinite register of forms and colors, and that of the painters she admired as Corot, Millet and Courbet, painter of my region the Franche-Comté.
Nature, poetry and meditative texts, especially those of the far Eastern philosophies are major source firing my imagination. They also give the spiritual sense for my drive of painting the breaths Cosmic rythms and dealing with soul states and human consciousness. More than an act of living, painting is a spiritual act.
Health concerns resulting from a serious accident reminded me of the inherent fragility of all life and the constant changes of nature permeate me with the feeling of impermanence.
Painting has become an "inner necessity" in order to go to the reconquest of my life. I learn, I assimilate every time something new like a mirror of myself. Slowly conceptualized, my paintings exploring the symbolic balance of landscapes, seek to translate the luminous impermanence through the modes of passage, between the inner and outer worlds, the vibrations of my conscience, the reminiscences and resilience.
Attentive to the passage of time, to the subtle modulations of light, I am particularly interested in translating transient and impalpable natural phenomena.In the light, the substance of the objects gradually loses its materiality. By progressively becoming predominant on the form that tends to dissolve, light creates a dialogue between colours and transparency, fluidity and movement, matter and opacity. It is a matter of telling a story by transfiguring the real through the interplay of light vibrations that energize the spatial tensions.
My predilection for mixed techniques promotes the presence of many texture effects in my work. My creations are born of the material and the tool, often my hand, and keep track of this passage. It is in the cracking of a painting, a line, a trace, that a cathartic quest begins and that is that of resilience. The subjects represented are then and more and more simply suggested, "accidents" or "fragments", always in symbolic correlation to properly express the mind by continuing to materialise memories and feelings, passages, interstices, a balance between emptiness and full, Yang and yin, to give a dynamic that is that of impermanence.
The light guides me, as it has already done in my experience at the frontiers of death, in my quest for harmony and balance. Since she never left me. My painting slides gently from the material to the light until the glare.
Three fundamentals define my esthetic credo and steer my research. First, materiality and its sensory dimension, with a work on the spirituality of matter, my serenity. Then the correlation of inseparable subjects by proposing a visual poetry working to calm and balance landscapes to lead us on the path of fullness. Finally, the chromatic unity and balance given by light through a careful choice of colors and light effects. My production process is complex and stretches over time. Once the mortar has dried sand or textured effects, I go back to the paint or pigments. I adjust, remove with a knife, a trowel or a hand. It is then that my works turn into an invitation to meditation, like shrines, preserved worlds. By giving life to matter, I reveal all the asperities of the human soul.
I decided recently to "open the cage" in order to share with the world the vital breathings of my meditative painting, a true Ode to nature. Since then, I have exhibited both in France and abroad, in galleries and in contemporary art fairs.
Awards
October 2018 - Public's first price - group exhibition (80 artists, 300 artworks) LIONS CLUB -Besançon- France
EXHIBITIONS
December 2019 - LUXEMBOURG ART FAIR - Luxembourg
October 2019 - YIA ART FAIR - Paris - France
September - October 2019 - CONCEPT STORE GALLERY - La baule, France
September 2019 - SWISS ART SPACE - Lausanne, Switzerland
August 2019 - SWIS ART SPACE - Lausanne, Switzerland
July 2019 - CONCEPT STORE GALLERY- La Baule, France
June 2019 - MAMAG MODERN ART MUSEUM - 2nd INTERNATIONAL FINE ART BIENNAL BASEL - Switzerland
April 2019 - CONTEMPORARY ART FAIR - Paris, France
May 2019 - CONCEPT STORE GALLERY - La Baule, France
February 2019 - solo exhibition using Art Room "In the intimacy of my workshop" - Buthiers - France
December 2018 - CONCEPT STORE GALLERY - Paris, France
October 2018- group exhibition at the Grand Kursaal Lions Club- Besançon - France. Public's first prize.
October 2018 - group exhibition at the 'Louvre Art Shopping Carrousel' Fair -Paris, France - 'Artists Workshop Club' selection.
March 2018 - solo exhibition using 'Art Room', '' Clarity ", Buthiers, France.
Each year since 2003, solo exhibition using 'Art room' concept. 'Matter and Sensations' in 2016, 'Reminiscence and Resilience' in 2017,...