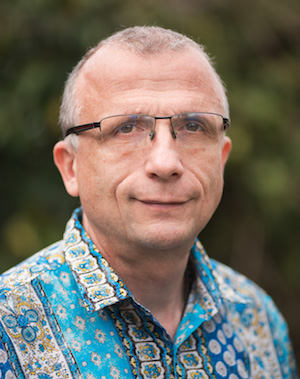 BIOGRAPHY
The perception of impermanence
From matter to light... up to the glare
Painter of impermanence and forgotten benevolence
According to the Artist Dominique Meunier, painting is above all, a family matter. A passion he inherited from his mother, a painter and drawer herself, whose work has been exhibited at Besançon's Fine Arts Museum. Painting has been prevalent through his life since childhood. Even beyond the pictorial technique, she taught him the importance of the observation of painters, particularly those whom she much admired like Millet, Corot and Courbet. Painters from his region, "Franche Comté".
Further, a career in industrial serigraphy aroused Dominique Meunier's interest for mixed media and a variety of supports. In the early 2000's, a near-death experience following a serious accident changed the direction of his life dramatically. Painting then became an "inner necessity" to help him reclaim his life. For the Artist, referring to a thought of Rodin, painting only started with the inner truth, like a life emergency, a cathartic quest. It is in this way, that he devotes himself to painting and creation.
In keeping with his own inner journey, Dominique Meunier decided in 2014 to leave the intimacy of his painting studio and share with the world, the energy breath of his spiritual and meditative painting, a true ode to Nature. Since then, the artist has shown his paintings in both France and abroad, in galleries and Contemporary Art fairs.
Artistic Statement
Dominique Meunier draws from nature an infinite register of shapes and colours. Poetry and meditative texts, especially those of the Far Eastern philosophies, nourish and soothe him, to better give spiritual meaning to his perpetual quest: to paint the cosmic breaths. It is for the Artist to transcribe the vital breaths of nature to provoke the awarenesses of the need to defend life and nature.
Thus, his artistic approach is spiritual and meditative, like an exploration of the symbolic balance of landscapes. Attentive to the passage of time, to the subtle modulations of light, he is particularly interested in translating transient and impalpable natural phenomena. By translating the invisible, space, time and light, he is the painter of impermanence. Dominique Meunier's painting is an ode to nature, a visual poetry that takes the viewer on the path of light and appeasement. Beyond the symbolic representation of nature, it is the passage between the inner and outer worlds that the artist's works allow to see.
Dominique Meunier's artistic expression is characterised by three principles: materiality and its sensory dimension, meditative symbolism and the correlation of inseparable subjects, and chromatic unity with special attention to the balance given by light. Thus, the mineral is essential in the progression of the Artist who transcribes it through the interplay of textures on the canvas. Minerality reflects Dominique Meunier's need for solidity and stability. It is then that his works are transformed into an invitation to meditation, like sanctuaries, preserved worlds.
The human being has a marginal presence in the creations of the Artist whose Taoist conception of the world makes humanity an invisible presence in nature itself. The choice of colours allows him to express the depth of the landscapes and to reveal this invisible dimension, freeing the cosmic breath. This work on chromatic breathes is accompanied by a special attention to the light that bathes the works of Dominique Meunier, gradually becoming predominant. By giving life to matter, the Artist reveals all the asperities of the human soul.
Awards
October 2018 - Public's first price - group exhibition (80 artists, 300 artworks) LIONS CLUB -Besançon- France
MAIN EXHIBITIONS
Main exhibitions
2020-2021
* Selection of the Salon of the National Society of Fine Arts, Paris, France
* Selection of Salon d'Automne, Paris, France
* MAMAG Modern Art Museum Vienne, Austria
* Senlis Sacred Art Festival, Senlis, France
* Contemporary Art Fair, Lausanne, Switzerland
* Galerie Angle d'Art, St Blaise Neuchâtel, Switzerland
* Galerie Vis'Art, Lyon, France
* Essence de l'art, Saint-Louis, France
* Ndf Gallery, Fribourg , Switzerland
* Art Show VII, Paris, France
* Concept Store Gallery, Paris et La Baule, France
* Paks Gallery Vienne, Austria
* Paks Gallery, Munich, Germany
* Swiss Art Space, Lausanne, Switzerland
* Galerie 2023, Lons-Le-Saunier, France
* Galerie Thuillier, Paris, France
2019
* YIA Art Fair, Paris, France
* Swiss Art Space, Lausanne, Switzerland
* MAMAG Modern Art Museum – 2nd International Fine Art Biennale Basel, Basel, Switzerland
* Contemporary Art Fair, Paris, France
* Concept Store Gallery, La Baule et Paris, France
* Solo exhibition "In the intimacy of my workshop" – Buthiers, France
2018
* Art Shopping Carrousel Fair – Paris, France – 'Artists Workshop Club' selection.
* Concept Store Gallery , Paris, France
* Invitation to the exhibition "From reality to dream" of Thibaut Froehly – Castel Peugeot – Audincourt, France
* The Grand Kursaal Lions Club, Besançon, France. Public's first prize.
* Solo exhibition ''Clarity", Buthiers, France
Each year since 2003, solo exhibition. 'Matter and Sensations' in 2016, 'Reminiscence and Resilience' in 2017,...